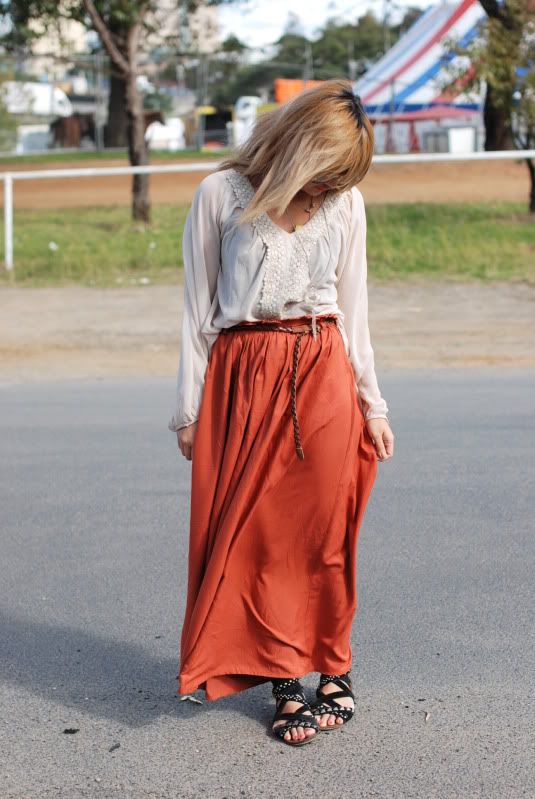 MAC morange lipstick
O.P.I hot & spicy nailpolish
Hi all! Thanks again for all the lovely comments on my previous post. All of you are asking me for where I get this jacket, unfortunately its thrifted, so it may be hard to find!
I will post today about a current trend I love - the maxi skirt. For years I was very stubborn about my skirt length, I was obsessed with knee length or just above the knee skirts. Well now no more, it's maxi skirts this year, baby. I think its the flow of the fabric when you walk with determination, and the way the hem sweeps across the floor when you sit down. There's something about this floor length that is so feminine.
And as you can see, while I stand in the wind, that I'm loving the floaty fabric. But I am also loving the orange colour, its so bold and unique. I pair it today with one of my favorite bright orange lipsticks and wear sandals to show off my orange toenails. Peek-a-boo! Enjoy!
I've created a new Facebook page, please "like" it now. It will mean so much to me.
Also everyone, follow me on Twitter, my account is @peach_tea_. I have over 700 followers, but I'll love more fashionable bloggers to follow me too. I always follow back!
Please take some time to connect with me, I love to connect with people and visit other blogs :) Please also follow me on Instagram and Lookbook as seen on the side columns!
xx Natalie